Ala Ebtekar Equation Of Time
On the morning of April 15, 2017, Gallery 16 and artist Ala Ebtekar created an edition of cyanotype prints on the roof of G16 in San Francisco. This video documents this extraordinary project.
Dean Byington
This monograph of Dean Byington's work offers a unique view of the artist's history, source materials, and working methods. It features an original short story and poem by the acclaimed author Rick Moody with additional text by Griff Williams.
The book was designed by Griff Williams and Troy Peters, published by Gallery 16 Editions.
Rex Ray | The Paper Collages
This monograph is the only book focused on the paper collage of of the late artist Rex Ray. Rex Ray: The Paper Collages. Rex Ray's work extends across mediums, from graphic design to paintings. But it's his series of paper collages that are most easily identifiable, and, arguably, his most beloved. Rex Ray: The Paper Collages is a sold out limited-edition volume that features a full selection of the works and presents them in full color. The work spans from 1995-2001.
Published by Gallery 16 Editions
These Are The People In Your Neighborhood | the first 16 years of Gallery 16
These Are The People In Your Neighborhood celebrates and chronicles the first sixteen years of Gallery 16' an innovative exhibition space and publishing program in San Francisco.
Artist include:
Elliot Anderson, Bill Berkson, Libby Black, Rebeca Bollinger, Ann Chamberlain, Adriane Colburn, Lowell Darling, Lauren Davies, Amy Ellingson, Emigre, Harrell Fletcher, Amy Franceschini, Michelle Grabner, Mark Grotjahn, Maya Hayuk, Cliff Hengst, Arturo Herrera, Lynn Hershman, Scott Hewicker, Jim Isermann, Colter Jacobsen, Xylor Jane, William Kentridge, Margaret Kilgallen, Brad Killam, Charles Linder, Adam Lowe, Kara Maria, Martin McMurray, Tucker Nichols, Shaun O'Dell, Geof Oppenheimer, Deborah Oropallo, Gay Outlaw, Rex Ray, Phil Ross, Carol Selter, Paul Sietsema, Alice Shaw, Sonny Smith, Wayne Smith, Darren Waterston, Griff Williams, and Alex Zecca.
Essays by: Glen Helfand, Maria Porges and Mark Van Proyen
Text by Griff Williams. Designed by Griff Williams and Troy Peters.
Bill | Bill Berkson and Colter Jacobsen
In the back of BILL, Bill Berkson writes, "The words and title for BILL popped out of a juvenile detective novel Tom Veitch gave me around 1980. Instantly, just flipping through this little illustrated book occasioned an emergency. The editorial imagination went to work. Soon, having typed a series of short sentences, paragraphs and stray phrases towards the bottom edge of unusually thin 8 1/2" by 11" sheets... I set aside the twenty-or-so pages and forgot about them."
The story was then shelved in a manila folder for 25 years. Berkson revisited the story in 2006 and decided the blank pages needed artwork. With the help of Mac McGinnes, it was decided that artist Colter Jacobsen would be a perfect fit. Jacobsen found inspiration for the project in a collection of postcards dating from early the 1900s through the 1980s. With a slow and deliberate attentiveness he began a series of drawings. He says, "I felt I was responding to another time, nearer to when I was born, a time thirty years before I was born, and recontextualizing these times into images for today." Within a year, the new BILL emerged, a fresh creation, in its present splendor.
Designed by Griff Williams and Troy Peters. Published by Gallery 16 Editions


Rex Ray | We Are All Made Of Light
Rex Ray established a distinct abstract vocabulary, drawing inspiration from the Arts and Crafts Movement, organic and hard edge abstraction, as well as pattern and textile design. His recognizable hand and acclaimed abstraction made him a staple in the international art and design scene.
Contained in this book are rarely seen early works, designs for Radiohead, the Pixies, and David Bowie among others, studio and installation photos, and a deep survey of Rex Ray's signature works on panel and canvas.
Includes essays by Griff Williams, Kevin Killian, and Rene P. Barilleaux, Chief Curator of the McNay Museum in San Antonio, Texas along with a poem by Norma Cole.
Designed by Griff Williams and Troy Peters. Published by Gallery 16 Editions.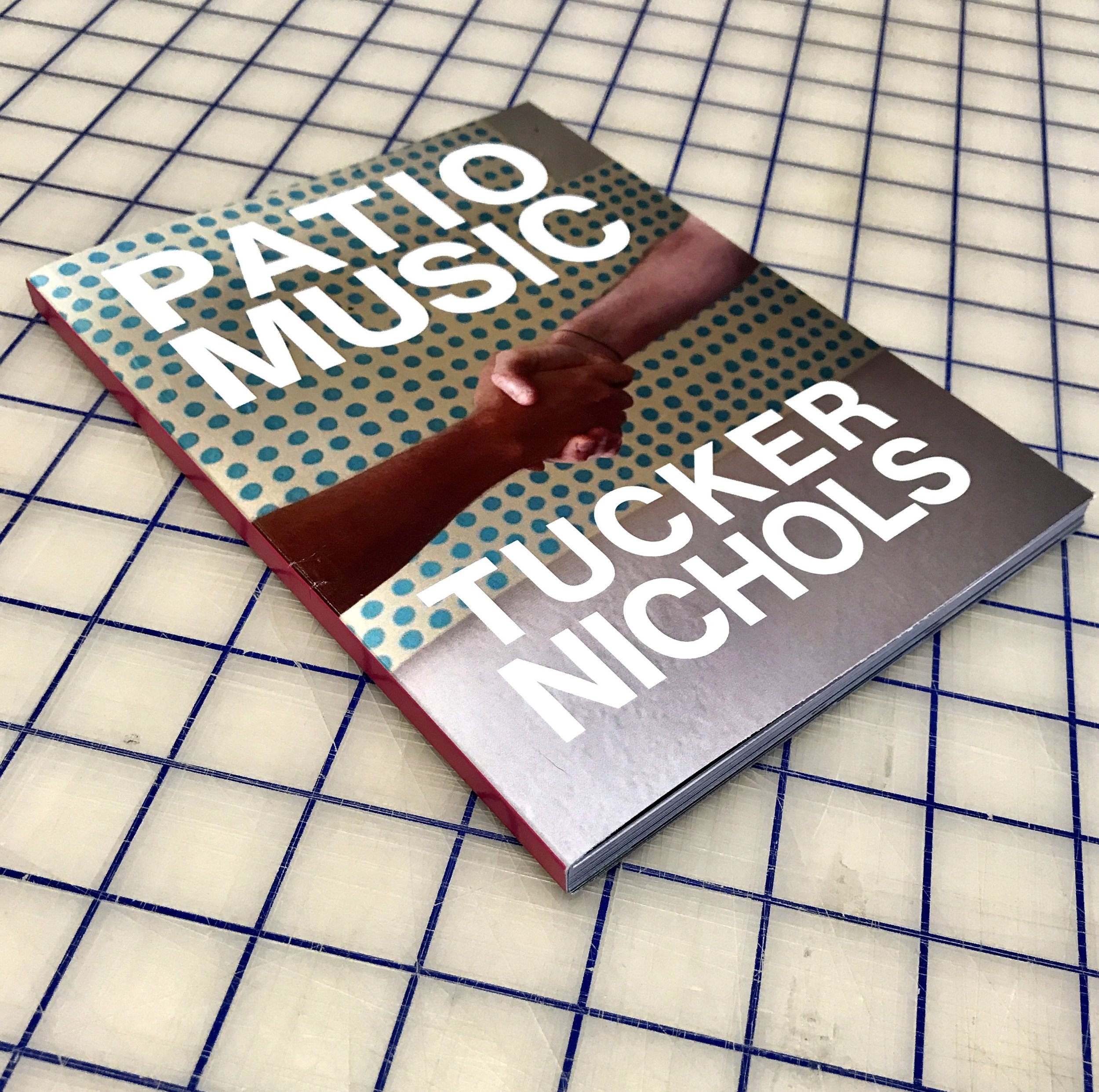 Tucker Nichols | Patio Music
Artist book of photographs taken by Tucker Nichols. The 92 page book was designed by McFadden & Thorpe for the artists Gallery 16 show in 2017. It was published by Gallery 16 Editions.
One Artist One Concept | Expanding Color System
A series of books published by Gallery 16 Editions. The book series was conceived by Griff Williams and artist Rob Craigie. Artist included Amy Franceschini, Harrell Fletcher with James Miles, Alice Shaw, Tucker Nichols.
Victory Gardens 2007+ | Amy Franceschini
Victory Gardens 2007 chronicles Amy Franceschini's inspired re-imagining of the original wartime Victory Garden program. The book features essays by Lucy Lippard and Mike Davis along with historical photos and context, and project documentation and insight. Franceschini's Victory Gardens 2007+ was presented as a series of actions, sculptural icons, and ephemera during the San Francisco Museum of Modern Art SECA Award show in January of 2007. The project was initially a small pilot program designed to evolve into a larger plan for a city supported food system.
Designed by Griff Williams and Troy Peters. Published by Gallery 16 Editions and The Expanding Color System.
James F Miles Is A Boyfriend And A Girlfriend with Harrell Fletcher
When Harrell Fletcher was invited to produce the third book of the 1 Artist, 1 Concept book series, he chose to show the work of James Miles.
Fletcher encountered Miles' work in the early 1990s as a volunteer at Creativity Explored (CE). During his time there, Fletcher started a zine that highlighted individual artists called Whipper Snapper Nerd (so named by another CE artist, John Patrick McKenzie). James Miles was the subject of one of the issues (which is reproduced in this book.)
Says Fletcher of Miles' art, "His work stood out from the moment I saw it, and has been compelling to me ever since. James' drawings are both very everyday and incredibly mysterious at the same time. He is operating on another level from anyone else I've ever encountered -- almost as if he is physically in this universe but perceiving several others that are undetectable to other people. The results are poignant, funny, disturbing, and generally stunning."
Designed by Griff Williams and Troy Peters. Published by Gallery 16 Editions and The Expanding Color System
Postcards From Vermont | Tucker Nichols
The second book in the 1 Artist 1 Concept series is Postcards from Vermont by Tucker Nichols. It documents some of the stream of postcards he sent to Gallery 16 from Vermont where he was getting married in the summer of 2006.

In the introduction Tucker lays the groundwork of the book:
"I spent the month of June with my wife at her late grandmother's farmhouse in Vermont preparing for our wedding. We spent our days painting the house and raking muck from the pond in the company of an old blind dog.

"Before I left San Francisco, I told Griff I'd send him a few postcards from the country. I made these drawings in a small studio beside the pond using whatever materials I could find in the desk up at the house."

Designed by Griff Williams and Troy Peters. Published by Gallery 16 Editions and The Expanding Color System.